1. Tat Ton National Park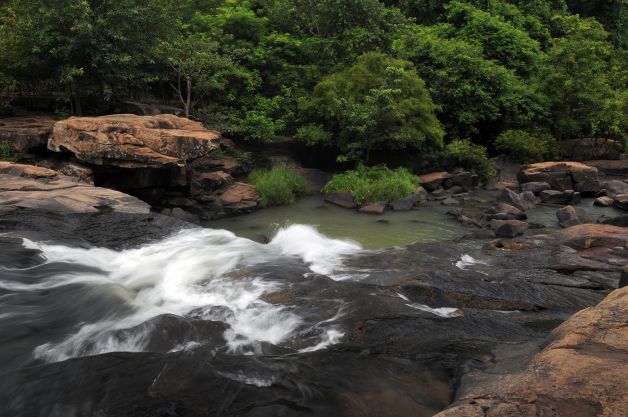 This National Park in Chaiyaphum received the Thailand Tourism Award in the category of natural attractions in 2013, 2015 and 2017, and has been chosen to be in the Awards' Hall of Fame. It features many beautiful waterfalls such as Tat Ton, Tat Fa, and Pha Eiang. In addition, Chaiyaphum residents and those from the neighboring provinces often come pay respect to the Chao Phor Tat Ton Shrine (Pu Duang), which is located at the Tat Ton Waterfall.

GPS : 15.980795, 102.034565

2. Phu Lan Kha National Park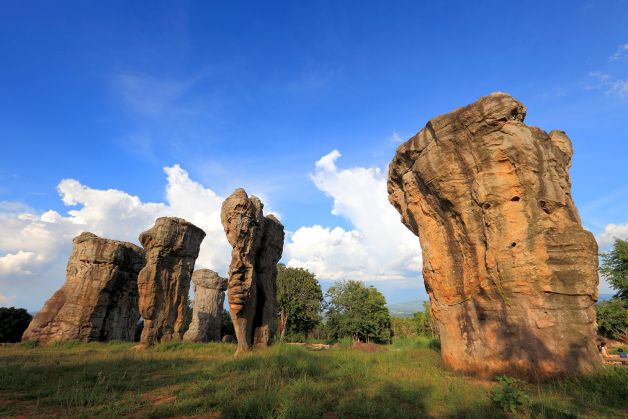 The Park features several interesting geological spots such as the Lan Hin Rong Kla Scenic Point, which is a massive stone outcrop with many deep rock fractures. At an elevation of 700-800 meters above sea level, the Scenic Point is an outstanding stone cliff providing incredible views and photo opportunities. The Park also features the Pa Hin Prasat Scenic Point, which is a group of stones resembling a castle (prasat), Pratu Khlong (natural rock arch), which is a massive rock arch with uniquely-shaped rocks and the deciduous dipterocarp forest in the surroundings, Pha Hua Nak Scenic Point, and Mo Hin Khao, a formation of five pillars of white sedimentary rock known as the Stonehenge of Thailand. According to geological survey results carried out by the Department of Mineral Resources and Chaiyaphum Province in 2002, the rocks are as old as 175-195 million years. Due to plate tectonics, folds and fragmentation of rocks occurred, followed by decay and erosion both vertically and horizontally; 65 million years later, we are left with these groups of pillar rocks. They appear to resemble many different shapes, such as mushrooms, boats, elephants, turtles, and pagodas depending on the imagination of the onlookers. These rocks are scattered around the hills.

GPS : 16.008557, 101.897876

3. Ban Khwao Silk Village

This is one of the regions in the nation that is well-known for mulberry plantations, silkworm farming and silk weaving. Visitors can watch demonstrations of silk spinning, dying, ikat, weaving, painting and ironing. The techniques represent the local wisdom and way of life of the people. Silk cloths in the pattern of "Mee Khan Khor Naree" from Ban Khwao received the national award from the OTOP (One Tambon One Product) Competition held by the Community Development Department, the Ministry of Interior. The pattern is recognized as an exquisite pattern that can only be found in Ban Khwao.

GPS : 15.767805, 101.915126

4. Chulabhorn Dam (Nam Phrom Dam)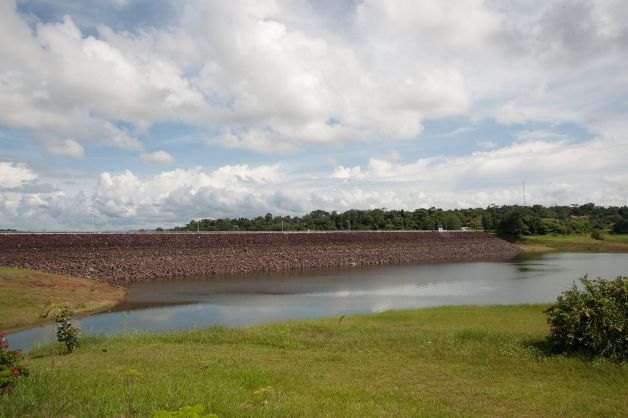 Constructed on the Phrom River on the Khun Phai Mountain Range, the Dam is specifically located on "Phu Yuak." It is a rockfill dam whose core is made of clay compressed with rocks and pebbles. The Dam is 700 meters in length, 70 meters in height from its foundation, and 8 meters wide. It is a multi-purpose dam owned by the Electricity Generating Authority of Thailand (EGAT), used for electricity generation and irrigation. An interesting spot in the Dam is the Replica of Phra Phutthasiri Sakkharat (Luangpho Chet Kasat), a Buddha image enshrined on the left side of the Dam, opposite Chulabhorn Dam Park. The Park covers an area of approximately 41 rai (about 16.2 acres). It is a preserved forest with various kinds of plants, and it offers the Phrom Phitsamai Pavilion for visitors to relax. The walkways in the Park are made of natural rocks. The Park also contains 325-million-year-old ancient plants, which are grasses of two main species: Son Sam Roi Yot (Lycopodium) and Son Hang Ma or Ya Thot Plong (Equisetum). Finally, a highly recommended spot in the Dam is Lup Khwuan Pavilion, a scenic spot at an elevation of 800 meters.

GPS : 16.535597, 101.649434

5. Phra That Nong Sam Muen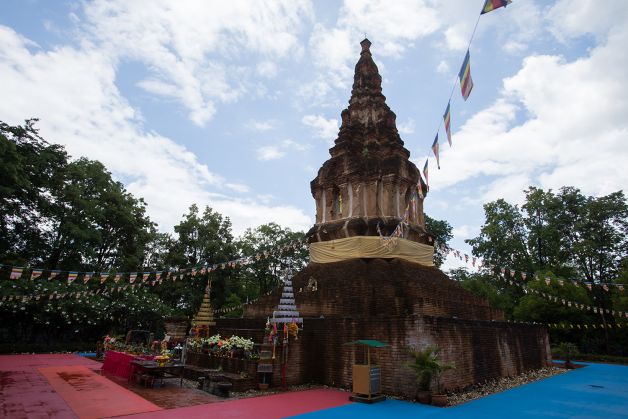 One of the most prominent historical sites of the province, Phra That Nong Sam Muen was named after a swamp to the northwest of the Temple. Phra That (pagoda) in the Temple is one of the most beautiful and complete pagodas to be found in Thailand. Its architecture is a combination of Lanna, Lan Xang and Ayutthaya Art. It is surmised that Phra That was likely constructed in the 16th century, during the reign of King Setthathirath of Laos. The holy-water sprinkling ceremony for Phra That is held between April 13th and 15th during the Songkran Festival (water festival) every year.

GPS : 16.380763, 102.043522