1. Surin's elephant village and Elephant Education Center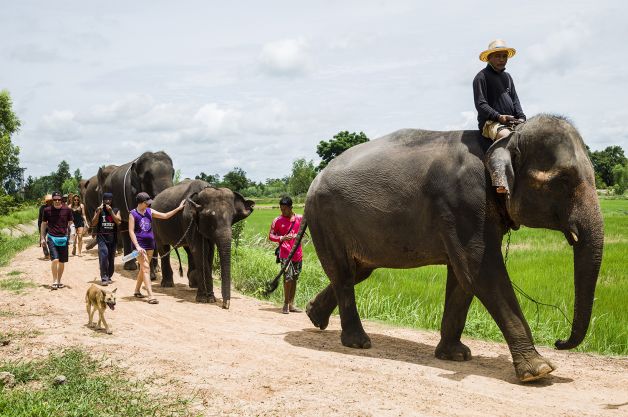 Surin's elephant village and Elephant Education Center is located in Mu 9 and 13, Ban Ta Klang, Tambon Krapho. Ta Klang villager is descendant of Suay, or Kuay Ethnic group, who has gift in capturing, training and keeping elephant. In the past, villager captured wild elephant from Thailand-Cambodia border, today, uncertain political situation disallows them to capture any more elephant. However, Ta Klang people remain keeping and training elephant to join the Elephant Round-up. Unlike northern Thailand where elephant is kept for labour. Ta Klang people consider elephant as their friends who can share the same house. In the village, visitors can enjoy elephant riding in the afternoon to the Moon river, and watch elephant bathing in twilight at Wang Thalu.

GPS : 15.266929, 103.494116

2. Village of Chansoma Golden Brocade, Ban Tha Sawang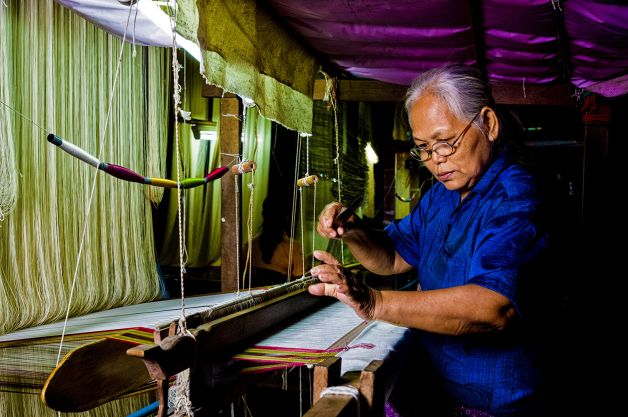 The village is highly recognised for its 1,416-heddled, gold-brocaded silk, being offered to Her Majesty the Queen. The handicraft was initiated by the Chansoma cloth-weaving group which has revived and preserved the weaving of golden brocade used in the royal court in the past. The group is headed by Achan Wiratham Trakunngoenthai who has gathered the villagers of Ban Tha Sawang to weave cloth in their free time after farming in the fields.

By combining attractive and exquisite designs of the past royal court with techniques of folk weaving, dazzling beautiful hand-woven cloth is produced and has become famous worldwide. The outstanding performance of the village is that it was selected by the government to weave cloth for the shirts of 21 APEC leaders and the shawls of their spouses, who participated in the APEC Meetings in Thailand in 2003. Thus, it is also a well-known village of weaving cloth for the APEC. The village won a five-star OTOP product award as well.

GPS : 14.955859, 103.472075

3. Phanom Sawai Forest Park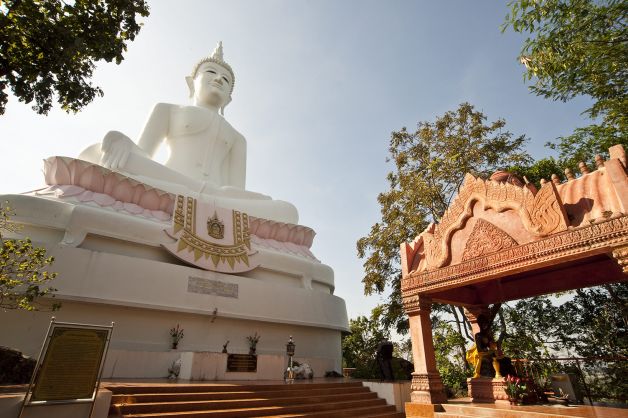 Phanom Sawai Forest Park is part of a national forest located in Tambon Na Bua with 3 hilltops; namely, "Phanom Pro" or "Khao Chai" rises 210 metres high and houses "Phra Phuttha Surinthara Mongkhon" or "Phra Yai", a large white reinforced concrete Buddha image seated on an overturned and upturned lotus base in the gesture of giving a blessing. The measurement is 15 metres wide across the lap and 21.5 metres high from the base to the spire on top of the head. The white of both eyes is inlaid with mother-of-pearl whereas the pupil is cast in blackened brass. There is a staircase uphill to the Buddha image where the bird's-eye view scenery of the Forest Park can be admired.

"Phanom Sarai" or "Khao Ying" rises 210 metres high and is where Wat Phanom Silaram is located, with 2 ancient ponds believed to be the dwelling places of sacred turtles.

"Phanom Kron" or "Khao Khok" rises 150 metres high and houses the Sala Atthamuk, an eight-façade pavilion constructed by the Buddhist Association of Surin to mark the Rattanakosin Bi-centennial and enshrine the replica of the Lord Buddha's footprint moved from Khao Chai. Nearby is located a stupa containing the relics of Phra Ratchawutthachan (Luangpu Dun Atulo), a monk master of insight development practice. There is also a shrine of Guan Yin, Goddess of Mercy.

GPS : 14.776781, 103.390540

4. Sikhoraphum Khmer Ruins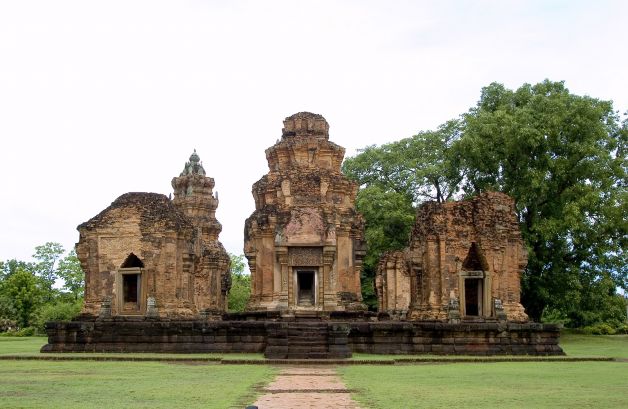 Sikhoraphum Khmer Ruins is located in Tambon Ra-ngaeng. Art styles shown on the columns and stupas are mixed between Bapuan (1007-1107 A.D.) and Angkor Wat (1107-1157 A.D.). Thus, this sanctuary was probably built in the mid of 12th Century or early Angkor Wat era. Firstly, it was built in Shivism of Hundu, and later adapted into Buddhist temple in the 17th Century or late Ayutthaya period.

The Khmer Ruins comprises 5 stupas. The middle one is the principle stupa with minor stupa surrounding on the same base. All are built from sandstone and laterite. The stupa faces east with only stair and door on the east. All the stupas are similar, without balcony, they all have single entrance. The lintel depicting Dances of Shiva is considered the most beautiful one among those found in Thailand and Cambodia.

GPS : 14.944699, 103.798352

5. Ban Phluang Khmer Ruin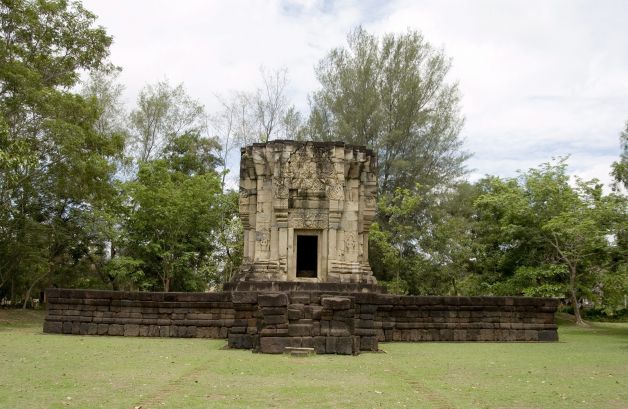 Ban Phluang Khmer Ruins is located in Ban Phluang, Tambon Ban Phluang. Similar to smaller stupa of Phanom Rung Khmer Ruins. Although, it is a small sanctuary but its stone carving is very excellent. It was renovated in 1972 with anastilosis (removing all parts, strengthening, and reassemble all again)

Most lintels found on the eastern and southern sides of Khmer Ruins depict God Indra on Erawan Heavenly Elephant over the kirtimukha. The northern lintel depicts God Krisna killing naga. It is assumed that this Khmer Ruins was built for God Indra.

GPS : 14.610416, 103.424077